Product Dimension:mm

Product Package:
 1.Put the blue film into the crystal expanding machine, make the blue film flatly inlaid on the crystal expanding ring , and then use the film to arrange the NTC chips on the blue film neatly.
2. Number of each layer: about 2.5KPcs / disk, center distance ≈ 0.6mm.
3. Packed in cartons, 10 boxes per box, 3 boxes per box, and 6 boxes per box.
4. MOQ: 10K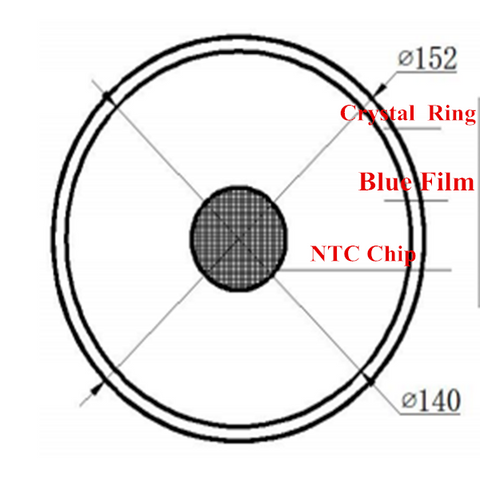 Product Specifications:
R25=100KΩ  ±3%
B25/50=3950K  ±1%
Working Temperature: -40℃-+125℃
Application:
MF58 NTC Thermistor Chip For Thermopile Sensor in Thermometer

How to place the order with our products?
Offer Requirement for Inquiry →Quotation →Producing Sample →Sample Confrimation→PI → Confirm PI → Arrange Payment→ Manufacture → Shipping
Together, we can make it better.  Makesafer, let's make electronic safer.
Makesafer technology is a professional protective components supplier. We could better offer you full range electronics components with competitive price and professional service.
Makesafer researches, manufactures and markets a wide range of protective components, including PPTC resettable fuse, PTC thermistor/sensors, NTC thermistors, NTC temperature sensors, Infrared Pir motion sensors, heating film elements and so on. 
We place great emphasis on the technologies and products that can bring suitable solutions to meet customer's special requirements. Our goal is not only to continuously expand business, but also to provide customers with more responsive service and support activities. 
As a professional protective components supplier, we always combine precision quality with efficient processing and excellent service. Our manufacturing bases are certified under ISO9001. All our products are RoHS compliant, and certificated under UL, TUV approvals.
    Makesafer, the best professional protective device supplier you can trust in China.
    Let's Make Electronics Safer.